These are the Instructions to configure our Custom Member Homepage - System Plugin.
This tutorial was udpated using plugin version 1.1.0 & Joomla! 3.4.1
Why use this plugin?
For more information, please visit the product pagefor this extension and read the 'Details'.
Configuration: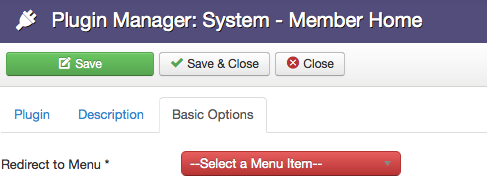 To configure this plugin, first select the menu item that you want to use as the new 'Member Homepage'.
(This documentation assumes you know how to create a menu item)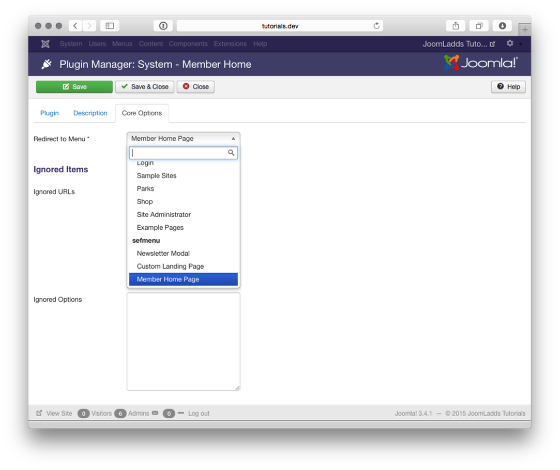 Simply choose the menu item that you want your members to be redirected to
(Optional) Enter any URL's that you need the plugin to ignore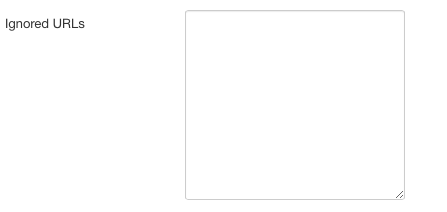 This would be used for any page that needs to be ignored. (added for a specific users needs. We thought the 'Ignored Options' parameter would be better used. This parameter may be removed in a future version)
(Optional) Enter any options that you need the plugin to ignore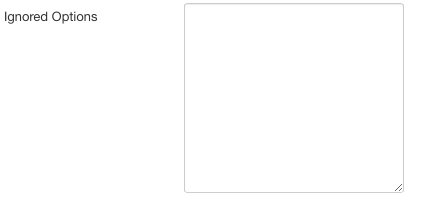 An option is technically the name of the component that shows in the URL (without URL rewritting) For example: com_content, com_ats, etc.
TECHNICAL NOTE: We are actually using this feature on our live site due to the fact that the 'Akeeba Ticket System' will post the results of some forms to 'index.php'. What actually happens is the page was getting redirected to our members home page and bypassing the form post. With this new feature, we added com_ats to this field and now the forms are posted as expected.
Finishing Up

Remember to 'Publish' the extension before saving.
This document was created using ScreenStepsfrom BlueMango Learning Systems, LLC