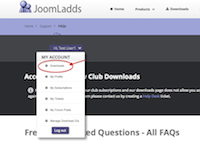 The easiest way to navigate to find your available downloads is to use the 'Downloads' link found under the 'User Menu' after you have logged in to your account.
Also, if you were to just click on the Top Menu link 'Downloads' you will have access to all the latest versions of our extensions. Any Club Subscriptions will always show, once you have logged in.
Please keep in mind, if our downloads page doesn't allow you access to any new subscription, please log out of your account, and then back in.